Nos pratiques agricoles & convictions
« To Bio or Not To Bio » ?
Aujourd'hui, nous pratiquons une agriculture à Haute Valeur Environnementale, extensive, dans le respect des Vivants & des écosystèmes qui nous entourent. Nous n'utilisons ni engrais, ni pesticides, nous respectons le cycle naturel de nos animaux et des saisons.
Nos chèvres sont élevées sur la ferme, nous accompagnons les mises-bas en février. Elles ont un accès libre aux pâturages : deux parcs de 6 et 7 hectares. Elles sortent tous les jours, sauf quand il neige. Nos chèvres mangent, à volonté, toute l'année, du foin que nous produisons l'été sur nos prairies naturelles.
Nous fabriquons des fromages selon la tradition locale, comme le faisait nos grand-mères, dans le respect des normes d'hygiène et de la règlementation européenne. La totalité de notre production de fromages est vendue à la ferme et via des circuits courts.
Toutes nos pratiques entrent dans les standards de l'agriculture biologique, mais pourquoi devrions-nous acheter un label pour produire de manière traditionnelle … ?
Seuls 18% des éleveurs de chèvres en France permettent à leurs troupeaux de pâturer et de gambader dans des prairies !
Seuls 15% des fromages consommés par les Français sont fabriqués à base de lait cru entier.
Nous souhaitons concentrer nos efforts pour défendre cette agriculture à taille humaine, gardienne des savoir-faire paysans.
Nous voulons que les générations futures puissent observer une chèvre dans un pré et manger des produits naturels qui ne sont pas issus que de l'industrie agroalimentaire.
Nous travaillons pour faire évoluer nos pratiques autour d'un objectif majeur : réduire notre empreinte carbone. Il s'agit donc d'une démarche plus globale que celle liée à la non-utilisation de pesticide ou à l'obtention d'un label. Nous devons penser nos métiers de paysans en mode « économie d'énergies & économies des ressources » pour préserver les biens communs et naturels.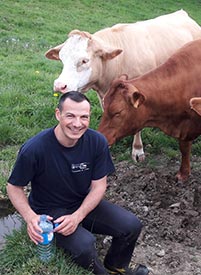 Accueil à la ferme
Nous avons envie de partager nos pratiques et d'informer sur l'importance de nos métiers dans un contexte d'évolution climatique. Nous sommes soucieux de permettre l'accès à la beauté des paysages et aux produits fermiers à tous !
Nous vous proposerons prochainement différentes modalités d'accueil.